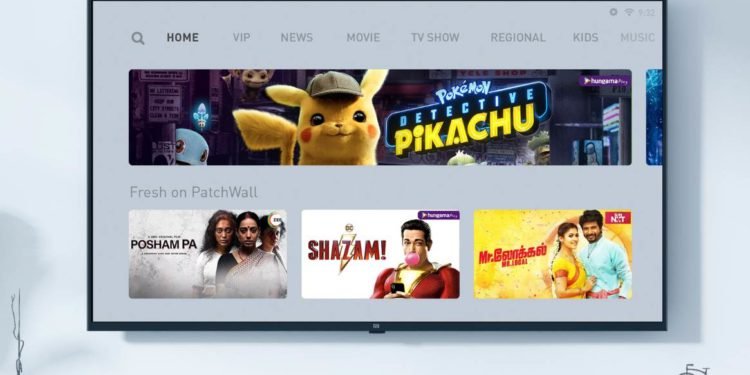 China's OEM Xiaomi is famous for its smartphones, but aside from smartphones, it makes dozens of smart gadgets and devices, especially in the local area. Xiaomi has also launched several smart TVs in India based on the Android platform with a custom UI for tVs called PatchWall. Xiaomi, like smartphones, is actively rolling out new tv updates. The brand is currently updating its TV lineup in India.
The latest tv update provides PatchWall 3.0 with new content partners and other UI enhancements. In this update, the recently released Disney+ Hotstar was integrated in India. You can see the complete change log below and a list of TVs to get patchwall 3.0 updates.
PatchWall 3.0 change log:
Disney + Hotstar integration: This integration allows Xiaomi to deploy its own sports channel. This allows users to discover content as well as one-click play options for a variety of sports content, including tournaments that are held across sports such as kabadi, tennis and cricket.
New content partners: Docubay and Lattu Kids have been added as content partners. Docubay enables streaming of international documentaries across a variety of topics, and Lattu Kids boasts more than 1,500 hours of children's content.
Mi List: Depending on the situation, Mi List features a carefully selected list of movies and TV shows in a variety of genres.
UI enhancements include:
Cleaner Animation: The animation for browsing the carousel has been redesigned and focuses more on the current selection.
Horizontal scrolling: You can now scroll through various lists horizontally on the zero screen on PatchWall 3.0 and the View Details page.
New Mi Lanting Pro fonts: New fonts for MIUI 11 have also been added.
Get patchwall 3.0 update on Xiaomi TV list:
Starting on April 6, 2020, patchwall 3.0 update will begin to expand to the following televisions:
Mi TV 4A
Mi TV 4C Pro
Mi TV 4A Pro
Mi TV 4 Pro
Mi TV 4X
Mi TV 4X Pro
Don't worry. Update your post when you receive relevant news or information. Hope you stay.