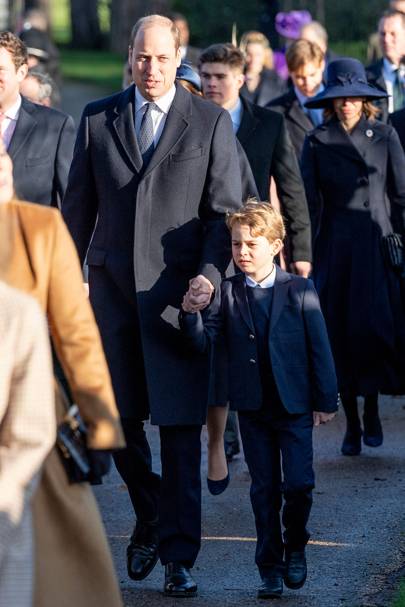 Most parents are used to abandoning their own musical preferences when their children are around and it seems the Royal Family are no different.
The comedian Frank Skinner had just unveiled that his one hit-Wonder ' Three-Lions ', a song he wrote together with David Badditive and The Lightning Seeds together, and sang the English soccer team's participation in the European European Championships in 1996. Mention is a hit in Kensington Palace.
Skinner, who appeared on ITV's Lorraine action this morning, discussed his Royal Variety action in November and claimed that Prince George ' insists that he and his father, the Duke of Cambridge, listen to the song every morning.
Skinner said that William told him the news when they met before the show, and George, according to reports, became a great adherent of the song and it becomes something he wants to listen to daily.
Skinner said: ' I did the handshake and I was first in the line, and he spoke to me a few minutes. '
The comedian added: ' He said to me: ' I listen to your footballsong every morning ' and I thought: ' It must be a lie. ' Are they lying, the royal family? '
Skinner said to Lorraine he was on William for more details and the Duke said, ' Yes, George insists that we have to play it every morning. '
' So I really wanted to say ' who? ' But I like the idea that they crawl around everywhere they live and listen. '
Skinner was later criticized after his performance in Royal Variety because he had taken off his shirt, something he did not realize at that time.
He said to Lorraine: ' Well, I knew nothing about this. I was on a tour and did the Royal Variety between the shows. '
' After it went out on a telephone list, I was on the stage, and a woman shouted: ' Oh, you put in your shirt ', and I thought it was weird, so I was investigating. '
' I told the guys with whom I toured, ' What did it mean? They said, ' Well, we didn't want to raise it up, but you were trending because your shirt was hang out in front of the royal family. '
Oops.